Hey guys, what's up?
Lemme ask you a question: what comes to mind if we tell you we went to the Canarias? Holidays, right? Vacation? Sweet, well-deserved rest, yeah?
Pfffft, as if! There's only one correct solution: and that's a very hungry GODZILLA ON A BICYCLE!
So, here's the deal: we went and met the lads from Rising Pixel in Gran Canaria, last month, and from a small internal Jam out came our first instant game for Facebook. We wanted to try something new, okay? It was so much fun!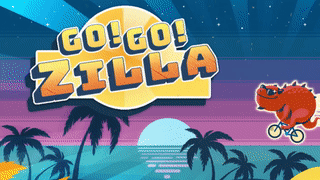 Now, this is where the game should be described, but it's honestly a tiny, addictive thing: hold down to pedal ahead, let it go to jump, and catch all the meat you can to satisfy the rumbles of this reptile on a two-wheeled contraption. Keep going! The more points you get the better!
Try it now:
https://www.facebook.com/instantgames/694626773994727
Now's the time to get back to more solid projects, but while you're here and waiting for those, why don't you go and have a bike ride among the dunes with Godzilla?
So yeah! Play it and let us know what you think about it. We will be back with more news for you all!